Su gentile concessione dell'autore. Articolo originale: http://www.ejinsight.com/20150223-china-friend-or-foe-of-russia/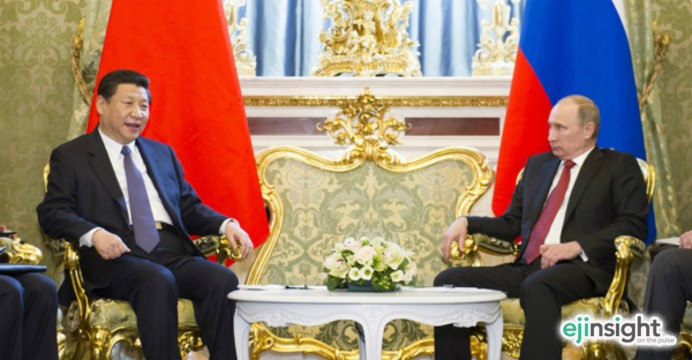 While the European Union is considering whether to impose new sanctions on Russia, the latter has become more proactive in looking eastward, particularly toward China.
What remains unclear is how much China can offer Russia as a strategic partner.
In 2014, Russia's capital outflows reached a record US$151.5 billion.
With the ongoing sanctions, Russian companies face challenges in getting financing and raising capital. Investment from Asia, particularly China, might fill the gap.
Eddie Astanin, chairman of the executive board of Russia's National Settlement Depository (NSD) said Asia had been an attractive place for Russian companies to raise capital even before the start of the economic sanctions.
About 60 percent of Chinese outbound investment was directed to, or channeled through Hong Kong, according to the Hong Kong Trade Development Council.
That may give Hong Kong an edge in connecting Chinese investment to Russian businesses.
"We hope to cooperate with Hong Kong, for example, on initial public offerings and offshore RMB trading," Astanin told EJ Insight.
Despite Russia's enthusiasm to develop closer ties with China, obstacles remain.
The first is that a strong and direct link between the Russian and Asian financial infrastructure is yet to be established.
"Asian investors tend to invest in London [through global custodians, brokers, investment banks and among other agents] when they invest in Russia," Astanin said.
This lack of direct link forces Russia to become more proactive in engaging Asian investors.
Russian energy giant Gazprom, for example, hosted an investor event in Hong Kong and Singapore early this month.
Also, the city government of Moscow sent a delegation to Hong Kong and presented a US$40 billion of transport interchange hub projects to Asian investors at the MIPIM Asia Property Leaders Summit in 2014.
However, even investors who are interested in Russia, doubt whether it is the time amid sharp fluctuations in the ruble.
In January, Russia's foreign currency credit rating was downgraded to junk by Standard & Poor's, pushing it below investment grade for the first time in a decade.
China Railway Construction Corp. and China International Fund had to put their projects to build a metro line in Moscow on hold because of the ruble's volatile exchange rate.
The second obstacle is the non-parallel trade structure between China and Russia.
Both countries have set a goal of achieving US$200 billion in trade turnover by 2020. China is already Russia's largest trading partner, with total turnover at US$89 billion in 2013.
However, China exports mostly manufactured goods to Russia while Russia exports mainly energy and natural resources to China.
As rising labor costs force China to diversify away from manufacturing, Russia could switch to imports from Southeast Asia.
Meanwhile, China will never over-rely on a single country as its energy supplier. Russia ranked 10th by trade volume among China's trading partners in 2013.
In certain regions, China and Russia are even competing for influence.
Central Asia is a vivid example. China's vision of a "Chinese Silk Road Economic Belt" is challenging the Moscow-led Eurasian Economic Union, which has been in effect since January.
The big question remains: Is China a friend or foe of Russia?
Neither best describes China. Notwithstanding their non-parallel trade structure and regional overlap, China and Russia are important to each other from a geopolitical point of view.
Both countries have the world's largest defense budgets after the United States and their military alliance is a powerful foil to the US-led North Atlantic Treaty Organization.
In other words, any Chinese-Russian partnership will be driven more by political considerations than economic interests.
For instance, last year their relationship gained momentum with a US$400 billion gas deal, a US$24 billion currency swap program and a US$242 billion high-speed railway project.
However, all of these are state-driven initiatives.
As Russia looks east amid economic sanctions from the west, China — with more than 4,000 kilometers of shared border with Russia — will be of ever greater strategic importance to Moscow.
Brian Yeung